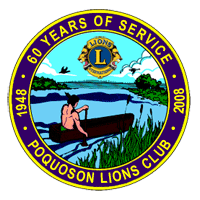 Welcome to the Poquoson Lions Club website. This site is designed to provide information about the Poquoson Lions club to members, potential members, those seeking assistance, and those interested in knowing more about Lions. This site provides a calendar of events, our monthly newsletter, club committees, as well links to other useful Lions websites and information.
Presidents Message
Fellow Lions,
I am humbled that you have afforded me the opportunity to serve as the President of such a storied and experienced club. At meetings, as I look around the room at men and women who are passionate about making a difference in the local community, I realize the great responsibility that comes with being your President. I hope that I can help the club have some fun while continuing to support all the values that we hold true as Lions.
I look forward to the upcoming year and working with each of you to raise money and continue the fight against visions impairment and diabetes.
Lion Chris Williamson
President, Poquoson Lions Club 2016-2017
Meetings held the 1st and 3rd Thursday at 6:30pm at the Poquoson Community Center, 49 Odd Road in front of the Poquoson High School
Club Slogan: Liberty, Intelligence and our Nations Safety
Lions Motto: We Serve